The Royal Concertgebouw, on the Museumplein in Amsterdam, was opened on April 11, 1888.
The Concertgebouw has four concert halls: the Grote Zaal, the Kleine Zaal, the Koorzaal and the Spiegelzaal.
It is home to the Royal Concertgebouw Orchestra.
Since a major renovation and conversion in 1988, the main entrance is no longer on Van Baerlestraat, but on Concertgebouwplein no. 2.
During the celebration of its 125th anniversary in 2013, the Concertgebouw was awarded the Royal designation. Since then, the official name has been the Royal Concertgebouw.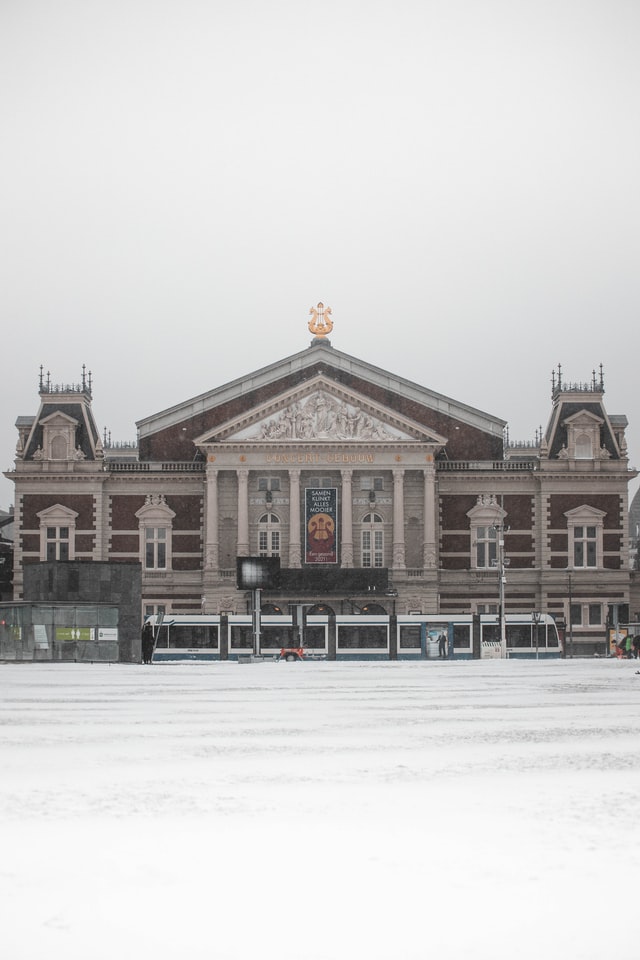 Concertgebouw
Both the large and small halls are decorated with cartouches with the names of the composers who were most appreciated at the time of the building's construction (and also afterwards). The names on the balconies in the Great Hall are of composers who have performed there or whose work has been premiered. An example of this is Mahler, who conducted the first five of his symphonies in the Great Hall.
The full list on the walls includes:
Haendel, Lulli, Scarlatti, Mozart, Cherubini, Weber, Berlioz, Chopin, Liszt, Wagner, Gounod, Reincken, Schuijt, Obrecht, Sweelinck, Orl. Lassus, Clemens n.P., Wanning, Brahms, Rubinstein, Niels Gade,
Verhulst, Schumann, Mendelssohn, Schubert, Spohr, v. Beethoven, Haydn, Bach
And on the balcony edge:
Strawinsky, Pijper, Ravel, Reger, Wagenaar, Tschaikovsky, Zweers, Bruckner, Mahler, Franck, Diepenbrock,
Debussy, Dopper, Rich. Strauss, Röntgen, Bartók, Dvořák
On the walls of the Kleine Zaal are the names:
Haydn, Beethoven, Mozart, Schubert, Schumann, Rubinstein, Hiller, Brahms, Grieg, Saint-Saëns, Mendelssohn, Bach